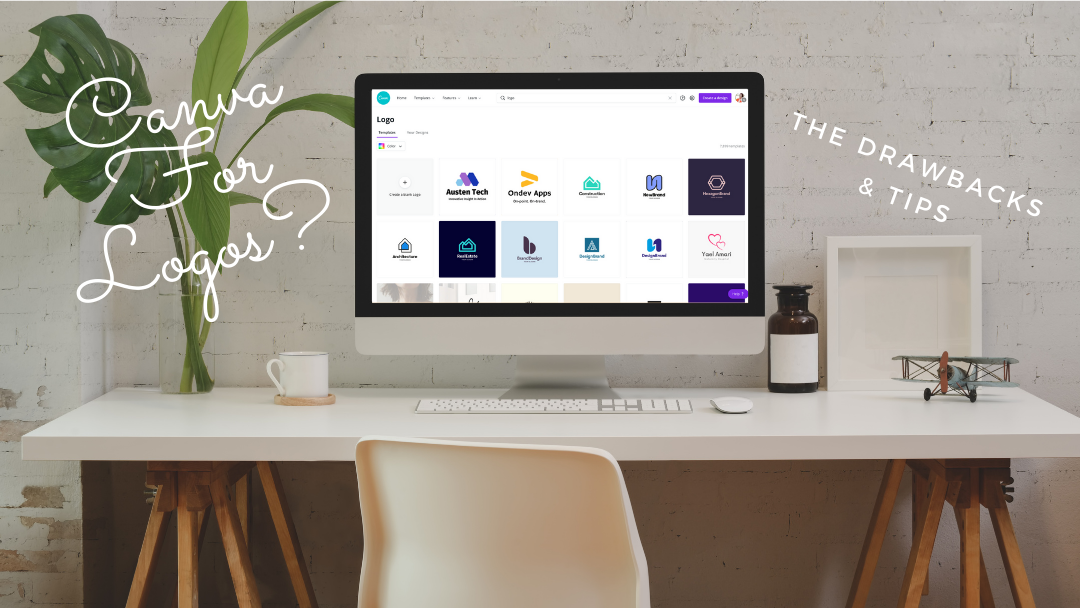 Canva offers an easy and low-cost way for people who can't afford or don't have access to design software, such as Illustrator, Photoshop, and InDesign, to make logos and other graphics without knowing how these programs work. The company's tagline "Canva makes design simple for everyone" reflects this idea that anyone with basic computer skills should be able to use their platform successfully without much instruction or time investment. It may seem like an easy way to avoid paying for a professional designer, but using Canva for building a logo can have some drawbacks.
So what are the drawbacks?
1.) The design you create in Canva isn't really a logo.
The definition of a logo from Dictionary.com is as follows:
Also called logotype. A graphic representation or symbol of a company name, trademark, abbreviation, etc., often uniquely designed for ready recognition.
You want to create a recognizable and quickly identifiable logo with a memorable quality that allows for instant recognition. The problem with Canva logos is that your design will not be exclusive, and you cannot protect it. That means ANYONE can be using the same design, even a competitor. You hold no copyright because you didn't create anything new, and you cannot trademark your design.
2.) You will not have the source or vector files.
This is important if you want to have the ability to make variations or changes to your logo at a later time. What happens if Canva disappears? ::GASP:: As a business, you never know in what way you will be using your logo so you'll need to keep backups of editable files. Also, although you can accomplish exporting many sizes in Canva, formats that allow you to create larger images like banners, signage, vehicle wraps, etc. are not available.
3.) Even with the logo templates provided, you might still create a logo that looks unprofessional.
Canva's templates are pretty basic, and that sometimes leads to a cheap appearance. Try to spruce it up yourself, and you might create something mismatched, unaligned, out of proportion, or just plain old ugly. At the very least, you'll waste a lot of time and effort on something that will still be sub-par. At the worst, you'll have created a logo that misrepresents your business and drives customers away.
4.) License Agreements can and have changed.
Canva's licensing agreement for images is a bit unclear. Check this out:


Source: https://www.canva.com/help/article/licenses-copyright-commercial-use

Source: https://www.canva.com/policies/onedesign/
Can you or can't you use Canva for designing a graphic that represents your business? It appears you can, but you probably shouldn't.
So you still insist on making a "logo" yourself in Canva?
1.) Start with a few ideas for what the logo could be.
These can be anything from your business name to a product picture or a symbol representing a service. Write down at least five different ideas on paper and think about the meaning behind the logo. Next, consider what you want your customers to associate with your brand by looking at the logo and try to find an idea that both you and your customers emotionally resonate with.
2.) Next, you'll want to list all the ways you plan on using the logo (print applications, websites, social media, etc.)
This step is essential because you want something that looks good in a variety of mediums and situations. Think about whether it should be vertical or horizontal. Do you need it to fit into a circle, or maybe a square? What color backgrounds will it be placed on? Write down all the variations you can think of.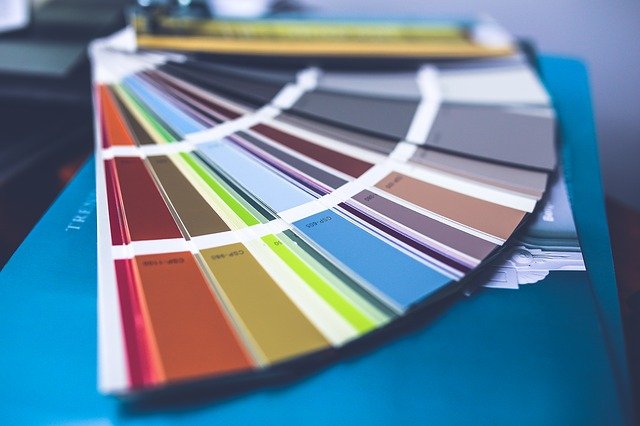 3.) The next step is choosing the colors for your logo.
To do this, make a list of adjectives that you think best describe your company. For example, if you are in the service industry and feel that you have fast, reliable service, some words to consider would be professional, prompt, dependable. Next to each word, write down what color comes to mind. You might also use a photo for color inspiration based on how your want customers to feel when they see your logo. Choose one color from your list as a primary color for your logo and up to 4 other colors to create a palette. [Check out my post on color meanings HERE]
4.) Choose a Canva logo template that is close to matching the ideas you have written down.
Go into Canva and look at the logo templates and pick out a few that might work for your business. Try typing in the name of your business and make sure that all your text fits. Obviously, some templates will work much better than others, so try a few on for size. Get creative and do a mashup with templates. An icon might look better on one design and the text layout better on another. Doing this will also help you create a more unique design. Should you choose other graphics from the Canva gallery, do so at your own risk (see license agreements stated above.)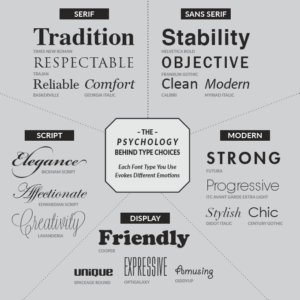 5.) Now comes choosing fonts and text for your logo.
You can use the fonts already on your template, pick new ones, or upload your own. Fonts, like colors, have their own moods. For example, serif fonts are more traditional and serious than sans serif or script fonts. A sans serif font would be more modern in style while a script font could be playful and fun.
6.) Now on to the best part! Play with it until you like it!
When you finish a few that you like, show them to friends, family, and existing customers. Ask them not just whether they like it, but what comes to mind when they see it or how does it make them feel.
Canva is easy to use and offers a variety of templates. However, it might not be the best tool for designing your logo because it has some serious drawbacks that are worth considering, the biggest is that you will be unable to trademark your logo. It also has limited file types and sizes that can narrow your logo's flexibility of use. That being said, with a bit of creative work on your end, you can create a mark to represent your business that will temporarily serve you until you can invest in a professional designer.
Don't want to do it on your own, and ready to hire a pro now? Hop on my calendar for a brand assessment, and we'll see if we're a good fit for working on your logo design.