Be seen and heard by building a strong brand
Your brand guides strategies, creates marketing content and attracts clients.
be seen and heard by building a strong brand
Your brand guides strategies, creates marketing content and attracts clients.
struggling in your business?
DON'T FACE THE SAME PROBLEMS A YEAR FROM NOW WISHING YOU HAD STARTED BUILDING YOUR BRAND TODAY.
The Problem is ...
Many business owners believe that a brand is just a logo, colors, and some pretty type.
Because of this, they don't invest in a brand strategy and miss out on the benefits and the clarity it provides.
Building a brand is fundamental to getting your business off the ground. If you're an entrepreneur, launching a new business, or have been in business for a while, but never took the time to define the foundations of your brand, you're just the type of person that needs to do what it takes to build a PracticalBrand.
BRAND STRATEGY IS MY PASSION!
I believe that a brand is much more than just a logo and that a plan is necessary before diving into visual designs and marketing. Taking the time to get clear on the who, the what, the how and the WHY behind a brand makes difficult decisions easier. I help my clients share their passion with the world by building brands that lead decisions, create impact, and promote engagement.
You Inspire Me.
To the entrepreneur or the small business owner, you start every day with the promise of new opportunities and adventures that lead you to build something that matters. There will be struggles, but your courage to persevere is what inspires me! I help amazing entrepreneurs, just like you, create the brands of their dreams.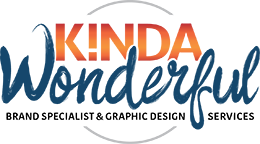 One Source. Many Solutions.

I have been using Sarah's expertise for several years, she is a delight!, professional, and artistic.
Debra C

I couldn't be happier with the service and the help I've received. Recommend absolutely. Sarah is kinda wonderful. I totally recommend and refer folks to Sarah.
Martha W

Sarah was really patient with my changes and captured my vision perfectly. The process was easy with each of her steps geared towards living out my brand on my logo. Now I have all the colors, styles, and different formats to brand everything with my logo.
Gina G

Blown away by the knowledge and expertise! It is aparant this team knows how to brand your business and help you grow! The best part is they make it so easy. As a business owner it's hard to stay up to date on all the new rules and developments – so lucky to have found this resource!
Jennifer

Sarah was incredibly attentive to my style and requests. She took the time to comb through colors, fonts, down to the tiniest details that I was looking for. It shows in the end result! I am absolutely in LOVE with my logo and the beautiful, hand-drawn character she created.
Sarah has very thick skin because I am ruthless in my critiques, and I'm extremely nit-picky, but she makes this tedious process enjoyable.
KindaWonderful is not a quick logo company, like many others out there. It is a custom piece of art, a total brand experience, and I will use this logo for the long-term.
I don't think I could sing Sarah's praises any louder.
Megan R

Sarah and I have been working together for three years now and I have been VERY happy with her work, advice and abilities. She takes my line drawings and turns them into beautiful ads. She does a great job laying out Military Deals USA magazine and her design of my 3 websites is outstanding. If your company is looking for a designer for either print or digital or if you need your website "made pretty" then I HIGHLY recommend Sarah!
MilSaver/Patriot Publishing

Pleasure to work with, friendly, a lot of attention to detail and making logo specific to me.
Stephanie B

I thoroughly enjoyed spending time with Sarah today! She came to our meeting well prepared and had researched my current business profile. She was so helpful in getting me to think outside the box and highlight my own strengths in my business. Her professional tips and knowledge were just what I needed. I'm excited to implement her ideas and I look forward to her wise counsel in the future. Thank you Sarah!
MarLane K

Sarah is outstanding and her contagious personality matches her exceptional talent as a photographer and designer. Her photography, editing, and staging expertise is meticulous, thoughtful, and in the end, exceptional products I am so proud of and happy to show to the world. My photographs were done at my location and she spent all the time needed to ensure her expectations and mine were met. You know her talent is highly intuitive when after one conversation, she nailed the vision I had for my new logo! Thank you so much! I'm coming back to you for more.
Dr. V

Sarah really is kinda wonderful! She has this innate ability to understand branding and all of the little pieces that go into making an idea a "brand." She is easy to work with and is great for brainstorming sessions. I look forward to working with her more as my brand develops.
Kayla T

I have known Sarah and had a professional relationship with her for more than 8 years. Sarah is a 1st Class Graphic Designer and Photographer. Sarah understands immediately what we are attempting to achieve and has a very professional hands on ability to direct ideas to product. I have absolutely no hesitation to recommend Sarah and she will always be my first port of call for anything graphic related.
Steve S

Sarah Justice has been a vital ingredient in my day-to-day workflow as a photographer and as producer of an annual calendar project/fundraiser. Her talents as a graphic designer and retouch artist are only surpassed by her amazing ability to deliver beyond my expectations on each and every project. Sarah has a strong work ethic (which is harder and harder to come by in this day and age). She never misses a deadline. I highly recommend Sarah to anyone who is in need of a hard- working creative who is an absolute joy to work with.
Deb O

Sarah does an excellent job and she is fun to work with. I value her expertise.
Jackie C

I know and worked with Sarah Justice for the past six years. Sarah is very talented and proficient in her field of graphic design and her abilities in Photoshop is beyond expert level, and now in her photography she done some amazing work. I have seen her work on a regular basis and I highly recommend and endorse her for any consideration in the near future.
Mark A

Your photography is incredible and you help me create a wonderful picture that is my dream. I am very grateful for you great work. Thank you very much Sarah!
A Lincoln